Dr. Bozdech
DR. M. B. BOZDECH, BSc, MD, FRCSC
Ophthalmologist/ Eye Surgeon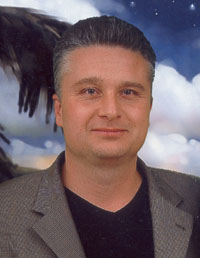 Czech born, immigrated to Canada as a child, Dr. Bozdech is a fifth generation Medical Doctor. He received his Bachelor of Science in Cellular, Molecular and Microbial Biology from the University of Calgary in 1988, Medical degree from University of Saskatchewan in 1996 and ophthalmology specialty certification FRCSC (Fellow of The Royal College of Physicians and Surgeons of Canada) in 2001. He received the American Academy of Ophthalmology International Education Award in 2009 and an International Scholar Award in 2010.
Dr. M. Bozdech and his family moved to Grande Prairie in the summer of 2001, where he began his career as an Ophthalmologist and Eye Surgeon. He spent one year as an appointed Chief of Surgery at the Queen Elizabeth II Hospital from 2004 to 2005 and in addition to his practice he served as an elected President of Peace Country Health Regional Medical Organization representing all medical staff with the Alberta Medical Association for 5 years. Dr. Bozdech relocated to Red Deer on July 2nd, 2012.
Dr. Bozdech also served as a regular member with the Royal Canadian Mounted Police from 1988 to 1992.
Dr. Bozdech's professional affiliations include:
Royal College of Physicians and Surgeons of Canada
College of Physicians and Surgeons of Alberta
American Academy of Ophthalmology
Canadian Ophthalmological Society
Ophthalmology Society of Alberta
Canadian Medical Association
Alberta Medical Association
Royal Canadian Mounted Police Veteran's Association
Red Deer Lion's Club
In a solo practice, Dr. Bozdech treats conditions such as ocular and periocular traumas, ruptured/perforated eyes, lacerated lids and other complicated eye conditions. He monitors, diagnoses and treats a broad spectrum of eye diseases such as glaucoma, diabetic complications and cataracts. Patients can receive Lucentis injections in his office for wet macular degeneration, and macular edema from other causes. As a medical doctor, he can order MRIs, CT scans and other diagnostic tests anywhere in Canada. Dr. Bozdech limits his practice to the treatment of medical conditions and therefore does not perform corrective laser eye surgeries, nor does he normally prescribe glasses and contact lens, except in extenuating circumstances if patients cannot obtain these services to their satisfaction from their local optometrists. The laser treatments Dr. Bozdech does perform are only for medical conditions such as posterior capsular opacifications, diabetes, vascular abnormalities, retinal tears and glaucoma.
Dr. Bozdech performs surgeries mostly in Innisfail and Wetaskiwin hospitals and ocassionally in the Red Deer hospital.
Our clinic is a proud sponsor of the Red Deer Hospital Foundation and Cross Country Canada athletic development through Project Podium.